Can The Global Economy Rebound?
The stock market is trading at record levels but in many ways it's been a very rough year in 2020. The good news is that the prospect of COVID-19 vaccines plus unprecedented monetary and likely strong federal stimulus to keep the economy afloat until the vaccines get to work should be a tailwind for stocks.
The bad news is that the seeds have been sown for a likely long-term top in stocks, albeit one on the fairly distant horizon.

Sometime in 2021 the world will likely be in a synchronous economic upturn. The market, as is its nature, isn't waiting to see the recovery. Markets are forward looking and they anticipate events. Hence the recent gains in stocks and the outlook for more gains ahead.

Market conditions could still could go awry, from any of the usual suspects: geopolitics, a financial bolt from the blue, even another pandemic or a vaccine disappointment. But the likelihood of any of these events occurring seems relatively low. At least under a Biden administration, the probability a mutually harmful trade war looks smaller.
Commodities Poised to Run
The seeds of an eventual top, which hopefully won't start having an impact until sometime in 2022, are in the form of prospects for substantially higher commodity prices and even potential commodity scarcities in some metals like copper.
The outlook for industrial metals like copper appears bright. One reason is the growing push toward renewable energies. The steep fall in the costs of renewable energies, especially solar, has made them viable alternatives to fossil fuels. That might seem to make oil, so long in the doghouse, the odd man out when it comes to major commodities.

It's getting harder to find a bullish view on oil. In its latest report, the International Energy Agency again lowered its projections for oil demand. At the same time, additional supply from Libya, after a long war, is coming onstream. Reduced demand, increased supply, and a major tilt to renewable energies would seem to all but preclude a sustained rebound in oil.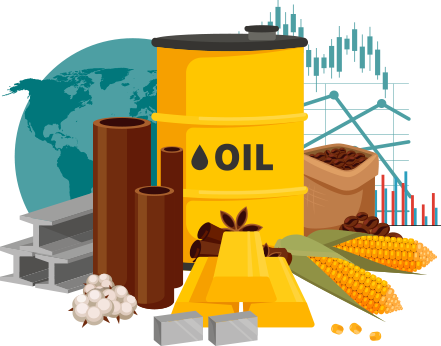 Down But Not Out
I readily admit that contrarianism on its own is a weak argument. But if there is any basis for the contrarian thesis, it's that it can lead to surprises, which in this case could result in the kind of shock that would send oil flying.

Contrarian arguments can be found on both sides of the fence: unexpected increases in demand and sharp long-term drops in supply are imminent for the global economy.
The demand side might seem the most problematic. But economic growth will likely start accelerating in 2021 and will be led by the developing world for some time. Rapid growth in developing countries goes hand in hand with rising demand for commodities, including oil.
The World Still Needs Oil
Ethylene, propylene, and xylene are just three of the petrochemicals we'll need a lot of to build out a renewable future. The need for petrochemicals especially in the developing world (and don't forget, for the next decade internal combustion engine cars still will be rising in numbers) should mean growing demand for oil for at least the next decade.

As for supply, despite more oil from Libya and possibly from Iraq, less U.S. supply and limited budgets of oil companies suggest supply will struggle to stay at current levels and probably will decline. China, which during the past pandemic-wracked year imported record amounts of oil, will be the biggest oil distributor in the next decade.
As the world recovers from the 2020 pandemic, as I mention above commodities, renewable energies, and developing countries look poised to outperform. Investors who follow a more traditional way of investing (namely, mimicking the S&P 500) may want to think of adjusting portfolio weightings.
---
Specific, actionable advice…
Every investor needs to have an honest, reliable source of "no B.S., tell-it-like-it-is" investment advice. And that's exactly what you'll get from Dr. Stephen Leeb in his award-winning publication The Complete Investor. With each issue, you get straightforward, actionable strategies that will help you invest in the smartest, most profitable opportunities out there.
Each month in The Complete Investor we follow five distinct Portfolios designed to meet your investment needs whatever your age or stage of life…your investment goals…the size of your pocketbook…or your appetite (or lack thereof) for risk.
Growth Portfolio – the best of the big-cap growth stocks
Income/Value – for investors who want not just income but growing income
Mutual Funds – funds with the best records and management along with low fees
ETFs – indexes tracking everything from yieldcos to emerging markets to gold
Eastern Fireworks – smaller more aggressive plays with the potential for multifold gains
Rigorous research goes into each recommendation, and we're fanatically transparent, following each pick continually and never hesitating to sell – or add – depending on changing circumstances. Our recommendations are informed by our overall assessment of the big investment picture.