Investing In Renewable Energy
"Renewable Energy is the only path to conquering two looming existential threats: climate change and commodity scarcities. Whether you focus on one or the other or both, they are at the heart of why renewable energies are essential for the world to prosper."
If COVID-19 were vanquished overnight, it would (of course) be a huge relief and an immediate spur to global economic growth. But it wouldn't solve an issue critical to growth over the longer term: sustainability. Achieving sustainable renewable energy is imperative to our world, which is facing unprecedented commodity scarcities.
Sustainability starts with the renewable energy sector but encompasses other critical commodities as well, along with labor.
One way that investors can support sustainability, and profit in doing so, is to buy stocks with high ESG ratings. ESG stands for "environmental, social and governance." These factors have a natural affinity with sustainability, making it logical that companies committed to ESG typically outperform the market.
Companies that focus on ESG tend to produce or use renewable energy and recycle commodities. They also implement systems to ensure fairness in pay, tying raises to productivity and thereby diminishing inequities relating to gender and race. CEOs in such companies tend to answer more closely to a board of directors, one that doesn't simply rubber-stamp policy decisions.
Common sense and academic research alike suggest that a focus on renewable energy and recycling helps shield companies against spikes in energy and other commodities. Workers who feel fairly treated tend to be more productive and less litigious.
It's no coincidence that companies with high ESG scores tend to outperform. That can be seen if you compare the performance of ESG funds with their S&P 500 benchmark. See the accompanying chart which compares a large-cap ESG fund with the S&P 500. We will further discuss ESG in future issues of The Complete Investor, a publication on which I serve as chief investment strategist.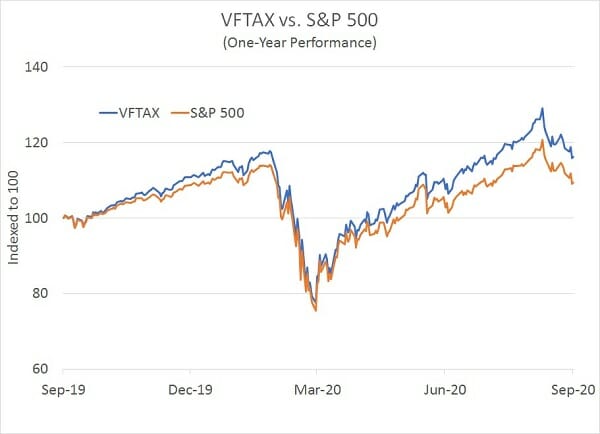 The stronger relative performance of ESG-focused companies shows it's smart to consider ESG in stock selection. In common with assessments of management and market dominance, ESG metrics are more qualitative than quantitative. All of these factors help tell you how much confidence you can have in projected earnings and growth.
Highlighting One ESG Standout
One ESG standout we like is Amgen (NSDQ: AMGN), one of the first publicly traded biotech stocks and from the start a first-tier company. Though many of its earlier drugs have long since lost patent protection, the company remains best-in-breed in almost every way.
Few if any companies in the pharmaceutical arena have matched Amgen's record for consistency. In the past 15 years, the firm's profits have advanced in all but one (2007, when earnings per share dipped by 6%). Dividends, initiated in 2011, have risen without interruption at an annualized rate well above 10%.
The company's products cover virtually all pharmaceutical areas. Near-term growth has been led by gains in Otezla, for psoriasis, and Repatha, a drug for controlling a genetically based tendency toward ultra-high levels of LDL (low-density lipoprotein).
Biologic drugs are notoriously hard to replicate and often have patents extended. Enbrel, the company's most important drug, launched in 2002 to treat autoimmune diseases, is patent-protected until 2028.
Neulasta, which treats side effects of chemotherapy, is another major Amgen drug. While it lost patent protection in 2015, it will likely retain meaningful market share until the mid-2020s. The company's pipeline may be the broadest in the industry with treatments for cancer, osteoporosis, migraines, immune disorders, and cardio-vascular disease all in Phase 3 trials.
The company's commitment to sustainability and renewable energy, including its fair and generous employment practices, has contributed to gross margins above 50%. We expect earnings growth to be steady in the high single digits for the foreseeable future and dividend growth to be close to 10%. This superb total return vehicle is for all seasons and investors.
---